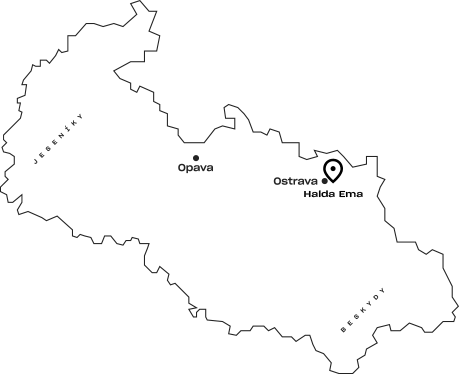 In Ostrava, we have our own "custom-built" hill. Do you not believe us? Well then go for a stroll on mound Ema. We promise that is a walk you will remember forever.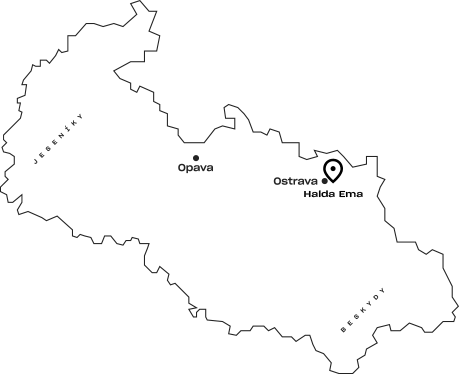 Just like Mount Vesuvious towers over Naples, so too does Ostrava's mound Ema observe Ostrava from an altitude of 314 meters. The symbols of both cities, however, represent much more than just two tourist attractions. They remind us of nature's unmatched power in contrast with human attempts to transform nature as we please.
Vesuvius in Italy has historically been the source of some worries for the people living at its foot. Since the year 1944, when this last active volcano on the European continent last erupted, it has been ominously dormant. By contrast, mound Ema, nicknamed the "Vesuvius of Ostrava" continues to smoulder. Why is that, you ask? Because it is on fire! The temperature inside reaches up to 1.500 °C! While walking on the mound, you will see gas vapors, accompanied by a typical smell.
The story of mound Ema begins around 1920. On the right side of the Ostravice river, heaps of trash are slowly brought over – the waste material, called overburden, from the local mines. The overburden formed a mound that was named after Italian countess Emma, whose husband, count Wilczek, founded Ostrava's coal mines. Whether or not this is a romantic confession of love we will leave up to you… What is for sure, though, is that the mound is made up of 28 million tons of extracted waste material and that it causes the sub-tropical climate present on the mound. That is why you will find thermophilic insects which you could otherwise only meet in India or Australia. If you come here in the winter, leave your sled at home – on this hill, the snow melts right away!
Availability of tours in English
Narrated tours of the mound Ema are provided by the Ostrava Information Center. To book a tour in English, please call us at least 5 days in advance at +420 724 166 992 or book by email at pruvodce@ostravainfo.cz.
More info HERE.

Ema offers its most beautiful views on a sunlit evening. You can best reach Ema on the yellow hiking trail, whether you start at the zoo or at Černá louka.
What not to miss in the area
We have a worldly region © 2023 · All rights reserved