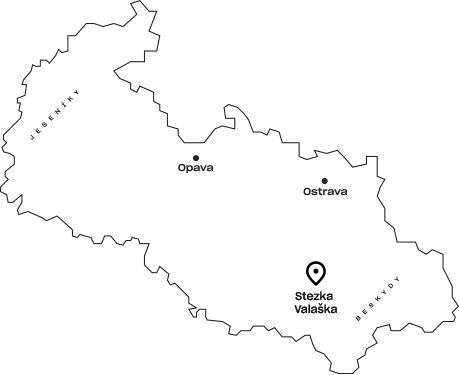 A suspension bridge made with hand-braided rope. At each end, colorful prayer flags flutter in the wind, symbolizing the sky, water, fire, earth and air. On similar bridges in the Himalayas, yaks carry loads of up to 150 kg. These are not the Himalayas, though. You are standing on the Sky Walk, only a few steps away from Beskydy's Pustevny peak.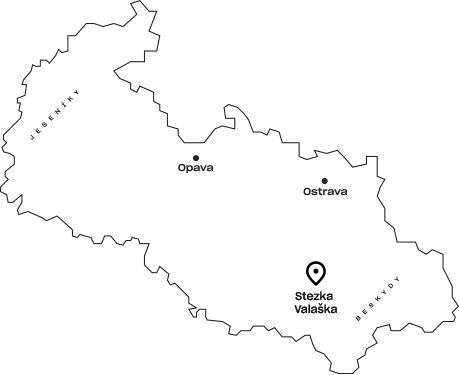 It takes a great dose of courage to embark on this challenging journey. But how else to get to the observation deck of the Sky Walk, called Valaška, other than on this 150-meter-long Himalayan rope bridge? Actually, there is an alternative for the less adventurous, but why deprive yourself of a little adrenalin?
Mount Everest can be conquered not only in the Himalayas, but also on Valaška. At least your personal Mount Everest can. Gather all of your courage and have a look at the scenery from this one-of-a-kind observation deck. The seven-hundred-meter-long "balcony", a.k.a. the Sky Walk, is made entirely from glass, including the floor! It's like taking a step into a void 30 meters above the ground.
However, a hike up the Valaška trail will not be a shot in the dark, but rather an air-tight bet. The magnificent views of the surrounding Beskydy peaks are priceless. In addition, trampolines positioned 12 meters above the ground also promise an exceptional adventure. Those would be hard to find in the Himalayas!

Aside from the Valaška trail, Pustevny also offers two beautiful mountain chalets – Maměnka and Libušín. Come admire these masterpieces by Slovka architect Dušan Jurkovič from the inside and outside. A restaurant and several guest bedrooms are at your disposal.
What not to miss in the area
We have a worldly region © 2023 · All rights reserved